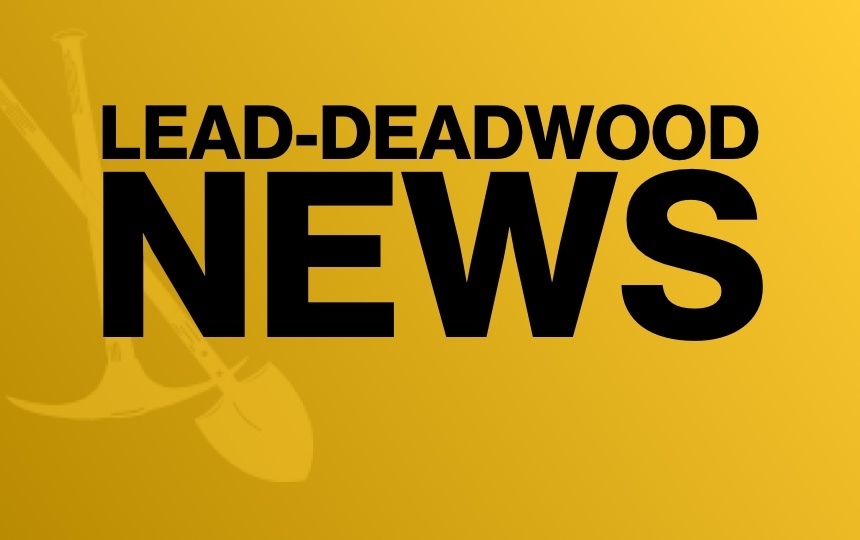 Teacher of the Year and Non-Teaching Employee of the Year
Jamie Hohn
Thursday, February 27, 2020
In a surprise announcement Monday morning, elementary school literacy specialist Shannon Mollman was named Teacher of the Year for the Lead-Deadwood School District by Superintendent Dr. Dan Leikvold, who, along with Mollman's family and student council members, popped in to Mollman's classroom to honor the educator for her contributions to the district.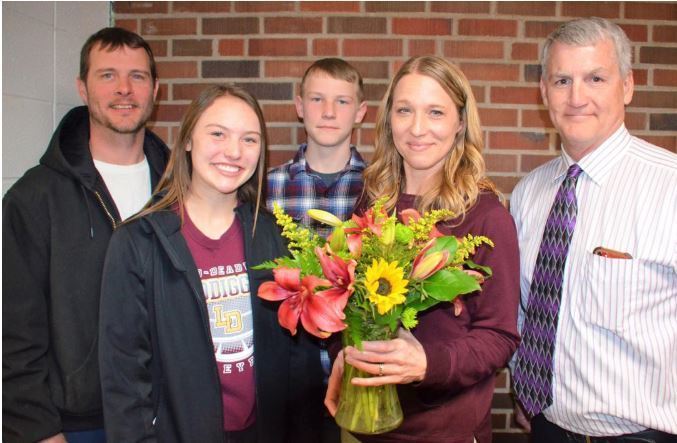 "I do it all for you guys," said Mollman to the students gathered around her. "I work with some great people and some great kids. I'm very fortunate. Thank you."
Mollman said she felt very humbled to receive the award.
"I work with some amazing colleagues that are also well-deserving of this. I am just very appreciative of the opportunities that I have, especially in my current job," Mollman said. "I feel very supported in my position and in what I do for this district. I can't say it enough. I work with some great people."
Leikvold said Mollman, who has served the district for 18 years, received multiple nominations for the award, which is indicative of what others think of the job she is doing.
"She does a fantastic job as a literacy specialist in the reading recovery program. She continually displays her willingness to go above and beyond, serving as a co-student council adviser and chair of the district language arts committee," Leikvold said. "Most importantly, she works very hard to help all students achieve success. She is very passionate about teaching and it shows in her approach. She is an excellent representative of our district and we are proud to have her as our 2020 teacher of the year."
Lead-Deadwood Elementary Principal Tim Kosters said Mollman exemplifies what it means to be an outstanding educator.
"She takes every opportunity to advance herself educationally, so she's taking advanced classes and getting a master's degree, working on a second degree to be a teacher/trainer leader for reading recovery," Kosters said. "She does everything for the kids that she possibly can. She works hard to make sure every kid experiences success."
Anonymously submitted Teacher of the Year nomination forms regarding Mollman touted the dedication, patience, kindness, and caring she displays toward students.
"Shannon is a devoted and compassionate teacher," read one form. "When instructing her students, she is always completely engaged. Our district is lucky to have her."
"Mrs. Mollman's dedication to the teaching profession, in general, and our district, specifically, can be measured by the prolific roles she fills and the positive contributions she makes on a daily basis," read another. "She is the Literacy Chair, where she has skillfully and diplomatically brought together K-12 grade level teachers."
"Shannon goes above and beyond to ensure her kids learn to read while instilling in them a love for reaching," read yet another. "She is patient and kind-hearted and speaks so kindly to all the kids she works with."
Non-Teaching Employee of the Year named
In a second announcement, staff and administrators made a stop at the middle school, where Middle School Counselor Sara DeBeaumont, who has served the district for six years, was named Non-Teaching Employee of the Year by Leikvold.
DeBeaumont said at that moment, she felt "so honored and so surprised."
"I love this school district and am very happy to be chosen for this," she added.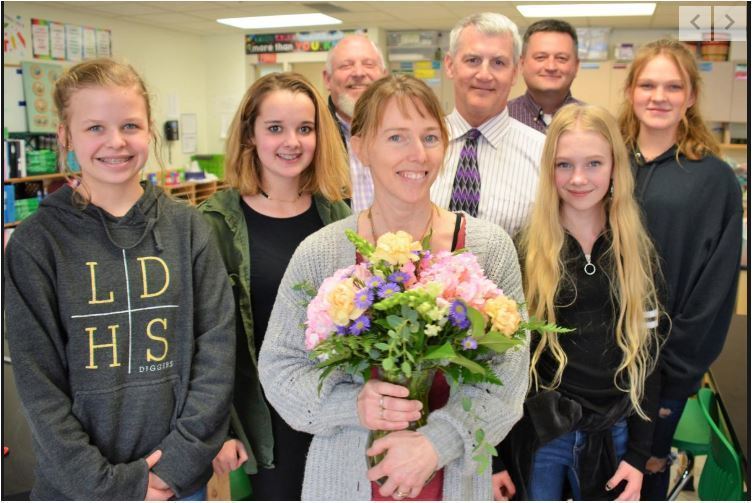 Leikvold said as a school counselor, DeBeaumont focuses on building positive relationships with students and truly has the best interest of every student at heart.
"She advocates for all of her students all of the time," Leikvold said. "She is active in so many ways at the middle school, including with new student orientation, our Teens Against Tobacco program, and our positive behavior rewards program. She interacts positively with students, staff, and parents at all times, and is a true champion for children. We are very happy to have her in our schools."
Lead-Deadwood Middle School Principal Jay Beagle said the district is very lucky to have DeBeaumont in the district.
"She goes above and beyond her normal duties, all the other extra things that she does," Beagle said. "She's so child focused and everything she does is in the best interest of the kids in our district and we're really super lucky to have three counselors of the quality that we have in our school district and Sara is very deserving of this honor this year."
A nomination form submitted on DeBeaumont's behalf touts her strengths.
"She works incredibly hard to keep the middle school glued together," reads the form. "From planning special events for the kids, such as career fairs and guiding the check-in check-out program and Positive Behavior Intervention and Supports (PBIS), Sara stays busy. However, she also deals with the student drama that teachers do not have either the time or patience for. This can be a very exhausting task, yet Sara does all of this and more with a smile on her face."
Mollman and DeBeaumont will each receive a certificate, a plaque, one extra personal day, one reserved parking spot for one year, a tribute award, and a $100 gift certificate, courtesy of PTO.
Courtesy of Jaci Pearson at Black Hills Pioneer: https://www.bhpioneer.com/local_news/mollman-named-l-d-school-district-teacher-of-the-year/article_27069f8c-5808-11ea-b0c9-93bb1c23d32d.html