Reminder: We will have our Winter Sports Meeting on Thursday, November 18th at 6:30 in Gym 2 for those participating high school girls/boys basketball or wrestling for this year. Thank you. Mr. Nepodal



Lead-Deadwood School District staff and students buy flags in honor of Veterans in their family for Veteran's Day!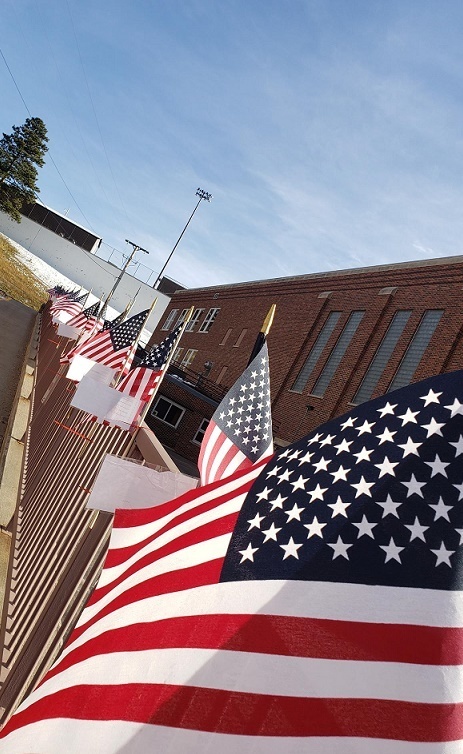 We will be having our Winter Sports meeting for those interested in participating in high school wrestling, girls basketball or boys basketball on Thursday, Nov. 18th at 6:30. We will start in gym 2 then split into the different areas for those 3 activities. Please plan to attend. Mr. Nepodal

Our middle school wrestling tournament at Belle Fourche on Friday will now start at 4:30 instead of 3:00. Our leave time has changed to 2:30 as well for those wrestlers attending the meet. Please note the time change. Thank you. Mr. Nepodal

Good luck tonight to the Digger VB team as it plays in their region game vs. Hill City! It is being played at Hill City starting at 6:00 - come out and support our ladies!

Our HSVB team will be traveling next Tuesday, Nov. 2, 2021 to Hill City to play our first round region game vs. the Rangers. Game time is 6:00.
2 hour late start tomorrow, October 14, in Lead-Deadwood.

Region XC on Thursday will be held at Hart Ranch - girls varsity at 2:30, boys varsity at 3:00 and JV to follow. Best of luck!
Status update- no school today, Wednesday, October 13, in the Lead-Deadwood School District.
2 hour late start for Lead-Deadwood tomorrow, Wednesday, October 13. We will contact you again if anything changes.

JHVB and HSVB games for tonight at Custer and New Underwood have been cancelled. We will try to reschedule the HSVB match - once that date is figured out, I will put out that message. NO games tonight for VB. Mr. Nepodal

TIME CHANGE: The JV Volleyball game at STM will start at 6:00pm with Varsity to follow. The bus will leave the school at 4:00pm.

The order of games for HSVB at Sturgis on Thursday, Oct. 14th will be JV at 5:00, C team at 6:00, and Varsity to follow. This is different than we normally play.

The JV VB tournament at Hot Springs for Saturday, Oct. 9th has been cancelled due to lack of teams.

JV volleyball will be going to the Hot Springs Tournament this Saturday, Oct. 9th. Tourney starts at 10:00 - leave time will be 7:15.
Dear parents, Along with your student's midterm report card you will be receiving two permission slips. One for a Pride Survey conducted by Lawrence County Coalition, and the other regarding the district's behavior screener. Please fill them out and return to the school office no later than Friday, October 8th. Regardless of permissions given, your student will receive a candy bar, and be entered into a raffle if they return them. The high school raffle is for a $100 Visa card, and middle school is for a set of Apple AirPods. Parents of middle school students will also find a letter explaining how to download the PBIS Rewards app if you have not already done so. This is a great tool to stay connected to your student and the school. The app will notify you when your student receives points for following school expectations, if they receive a behavior write up, or daily points earned if your student is enrolled in the Check-In Check-Out (CICO) program. Thank you for all you do to support your student and the Lead-Deadwood School District.

Region Cross Country on Oct. 14th will start at 12:00 and be held at Rocky Knolls Golf Course in Custer.

Couple schedule changes for HSVB: Oct. 5th at Harding County - JV and Varsity only - still starts at 5:00 Oct. 7th at STM - JV and Varsity only - still starts at 5:00 *NO c team for either date